Backstreet Boy Launches Lupus Support Group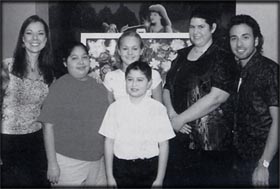 Four years ago when Howie D. of the Backstreet Boys lost his sister Caroline to lupus, he gained a renewed sense of family and began helping patients and their loved ones battle the disease. Lupus is a chronic inflammatory disease that can affect various parts of the body, especially the skin, joints, blood and kidneys. Shortly after his sister's death, Howie and his family formed the Dorough Lupus Foundation to aid in research and education, and to provide financial assistance to organizations that help people living with lupus who cannot afford treatment.
Arnold Palmer Hospital, together with the Dorough Lupus Foundation, has initiated a support group to address the social and emotional needs of children and teens with lupus, as well as their families. The Dorough Lupus Foundation Support Group is the vision of Howie's mom, Paula Dorough (fondly called Mama D.).
To the delight of young Lupus patients, shown above, Howie D and his sister, recording artist Pollyanna, visited Arnold Palmer Hospital along with their parents to launch the new support group and attend the first meeting.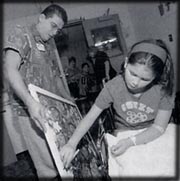 The Dorough Lupus Foundation has also assisted Arnold Palmer Hospital's Child Life Department by providing artists for the Healing Arts Program. One of two paintings created by Erich Padilla (right) and pedriatic patients at APH will be auctioned to raise money for the Dorough Lupus Foundation. The other painting will be on display at the hospital.
The Dorough Lupus Foundation Support Group meets at 7pm on the fourth Tuesday of each month in the Arnold Palmer Hospital Conference Dining Room. For more information, call 407-896-6187 or toll-free at 866-448-2353
More news...